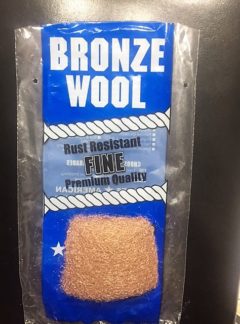 Bronze Wool
The choice for finishing, maintaining and restoring wood, or metal surfaces.
Bronze Wool is the flexible abrasive for sanding, smoothing and polishing all types of surfaces. Unlike steel wool, which can leave behind small fibers that corrode and discolor wood, or scratch shinny metal, Bronze Wool resists shedding, rust, and corrosion.
Order your Bronze Wool with your Bottle of SQCG.
Please Note:
WE ONLY SHIP BRONZE WOOL WITH A PURCHASE OF SQCG, DUE TO THE COST OF SHIPPING & HANDLING.
$

2.50
Add to cart